April 25th, the perfect day! But really, this Washington wedding was such a joy to be part of. This was my first wedding in the PNW and I loved every part of it. Being up there the week prior to the wedding was not only fun work but it felt like a mini getaway. Brainstorming in Pike Place Market to see what flowers we would use that weekend, getting last minute items from Hobby Lobby, and prepping decorations at the bride's house and walking through the venue, made for a fun and successful week! And all of the focus that week on preparations and also celebrating the the bride and groom made everything beautifully fall into place.
THE COUPLE:
Thomas and Sarah were so confident in their commitment to one another that it made it such a joy to work on the details for their wedding. They had a pretty nightmarish thing happen when just a couple months before sending out their invitations, they found out their venue was being accused of fraud and they were told to not give that venue anymore of their money. Besides trying to get their deposit back, they needed to quickly find a venue. They found a place they loved but the timing would make it hard to have a whole meal with the reception, so to make do they decided to have a late ceremony and a dessert reception. It was such a beautiful evening and it was everything they were hoping for!
THE CEREMONY:
This ceremony was extra special since both the bride and groom have parents who are pastors! Both of their fathers led different portions of the ceremony, as well as a group of the brides friends singing Amazing Grace as a celebration of the Lord's grace in their lives.
THE RECEPTION:
Their reception came quickly following the ceremony and there were so many treats for the guests to choose from! With the 7:00 ceremony, there was no dinner at the reception, but a delicious array of hors d'oeuvres, desserts, and a chocolate fountain with many choices fir dipping. After some toasts from friends and family, the first dance everyone was talking about for the rest of the evening! The Disney loving bride and groom danced to "I See the Light" from Disney's Tangled, making quite a production of it too! The rest of the evening was filled with friends and family on the dance floor joyfully celebrating Sarah and Thomas.
THE VENUE:
The Rosehill Community Center was a beautiful accommodating space. The view was gorgeous on the sunny Washington day, and the space was especially versatile. Highly recommended to any Washington couples looking for a large space and on a budget.
TIPS AND TAKEAWAYS:
When having a friend be your DJ who maybe is not actually a DJ, make sure that they know they are on "DJ" duty for the night, and if they are going to be sitting at a table, plan for it to be near the sound equipment, especially for during the planned songs and dances, and to help with adjusting mic levels if needed during toasts and everything. They did this for most of the night, but that is something that can make or break the flow of the reception if not done well.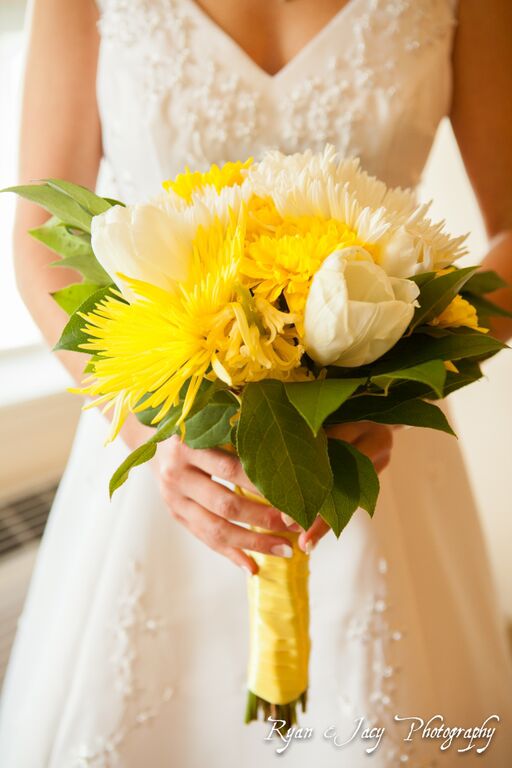 Overall it was a lovely day! And getting to be in charge of all of the flowers was extra special too, making the bouquets, boutonnieres, corsages, and centerpieces (with help from some wonderful ladies with all the centerpieces! Couldn't have done it without them!)! This wedding definitely made me want to travel more for weddings! Something I can hopefully venture into more in the future!
Venue: Mukilteo Rosehill Community Center Photographer: Ryan and Jacy